A much awaited comeback of a key asset for Decathlon's relationship with its customer base
Decathlon is averse to low-rating products in their product catalogue, less than four out of five stars and you know that product is doomed. With their previous app, though, they were in uncharted territory. Should they get rid of their 2.6⭐ app? But then, what?

Well, they finally did just that in January 2019 only to discover that people demanded some app. The question chez Decathlon was: OK, but what app exactly? Exactly the same question we got from Marta Cora, the indisputable chief of "all things app" at Decathlon. It came short of a briefing, one could say, but in turn that allowed us to be more creative and devise a multi-pronged approach.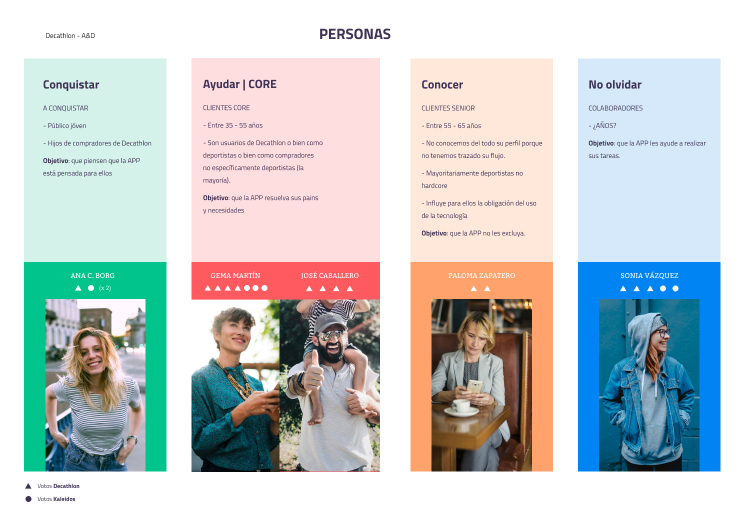 To ecommerce or not to ecommerce
Surely, the most obvious app for a sports megastore company such as Decathlon would be an e-commerce one so you can enjoy an online store on your smartphone. However, Decathlon didn't want to go for the obvious route if it didn't significantly contribute to their customer experience.

Many other approaches were analysed. In-store experience, personalized content and communication, etc, but in the end, the ecommerce path was chosen, with one condition. It had to really matter.

For that, Decathlon worked with us in two major elements. App's ecommerce funnel should bring more net sales to the game and the user should enjoy a relevant communication experience at all times (this is one of Decathlon's so called promises).

Carefully devised metrics and in-app workflows were developed as well as a unique visual design that would shout Decathlon through its minimalistic yet brand-heavy UI. In Visual Designer Ester Latorre words "there is no way you can mistake Decathlon's app with another".